---
Tradition & Culture
History and Religion
It is said that Mt. Ishizuchi, the tallest peak in western Japan, was first used for religious training 1,300 years ago by En no Gyoja (also known as En no Ozunu), the founder of Shugendo (ascetic training). En no Gyoja opened temples on sacred mountains across Japan.Today, elements of Shugendo practice can be seen at several shrines and temples in the area, including Ishizuchi Shrine and Gokuraku-ji Temple.
In the middle of the Nara period, the ascetic Jakusen (posthumously the Bodhisattva Jakusen) lived on Mt. Ishizuchi and worshipped the mountain deity Ishizuchi-zao Daigongen. Following this, many ascetics came to the mountain to train, leading to the establishment of the Joujuusha Shrine. This shrine is the predecessor of the modern Jojusha Shrine, the name of which is written with different Chinese characters.
It is also said that Buddhist patriarch Kobo Daishi (Kukai) trained on Mt. Ishizuchi. Ishizuchi mountain worship also inspired devoted followers such as Emperor Kanmu, Emperor Montoku, Minamoto no Yoritomo, members of the Toyotomi and Kono clans and the leaders of nearby Saijo and Komatsu domains.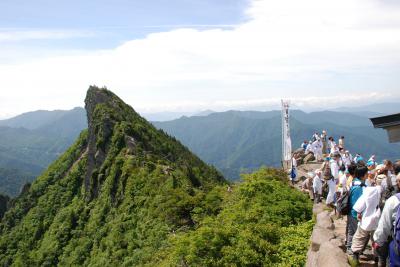 The Mountain-Opening Festival
Ishizuchi Shrine's grand summer festivities, popularly known as the "mountain-opening" (oyama-biraki), take place from July 1-10. During this period, ascetic practitioners dressed in white garb gather to summit the mountain.
While climbing, these faithful chant sutras and play a conch shell known as a horagai. (For religious reasons, on July 1 women are not permitted to climb the mountain.)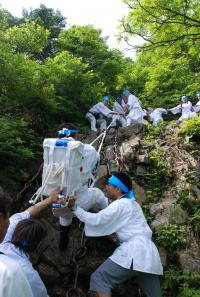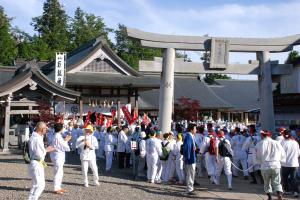 Chains
One of Mt. Ishizuchi's most famous features is its iron climbing chains. Including the "trial chain" at Zenjamori on the Joju (Ropeway) trail, these four chains will test your strength. (There are bypass trails for hikers who do not wish to use the chains.)
Records of these chains being replaced are present from the early Edo period, so they are known to be over 300 years old.
・Trial chain 74 m (Note: Part of the trial chain requires climbers to descend.)
・First chain 33 m
・Second chain 65 m
・Third chain 68 m
*The trial chain is the only one of the four that requires climbers to descend. The Tsuchigoya route includes only the second and third chains. Hikers using the Joju (Ropeway) route have access to all four chains.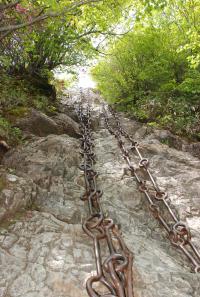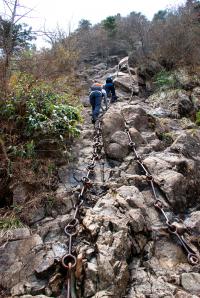 Mountainside Traditions
Ishizuchi Kurocha (post-fermented tea)
Black-colored post-fermented tea produced for centuries at the base of Mt. Ishizuchi.
This tea has been served to pilgrims, ascetics, and other visitors at seasonal events for many years, taking its name from the region and color of its leaves (kurocha means "black-colored tea," which is different from "black tea" or "kocha" in Japanese).
---